Nairobi, July 13, 2023 – The transformative power of education has caught the attention of corporate organizations, prompting them to take a proactive stance in driving societal progress. Through strategic partnerships and innovative programs, these organizations are leaving an indelible mark on the lives of students across the nation.
Today, two prominent organizations, Optiven Foundation and Fusion Capital, came together to propel this journey forward. Optiven Foundation, a leading non-profit committed to transforming lives through education and empowerment, proudly announced a generous donation of Kshs1.5 million from Fusion Capital. The handover ceremony, held earlier today, brought representatives from both organizations together, marking a significant milestone. The contribution will be directed towards the Foundation's Education Pillar, with a specific focus on the Day School Intervention Program.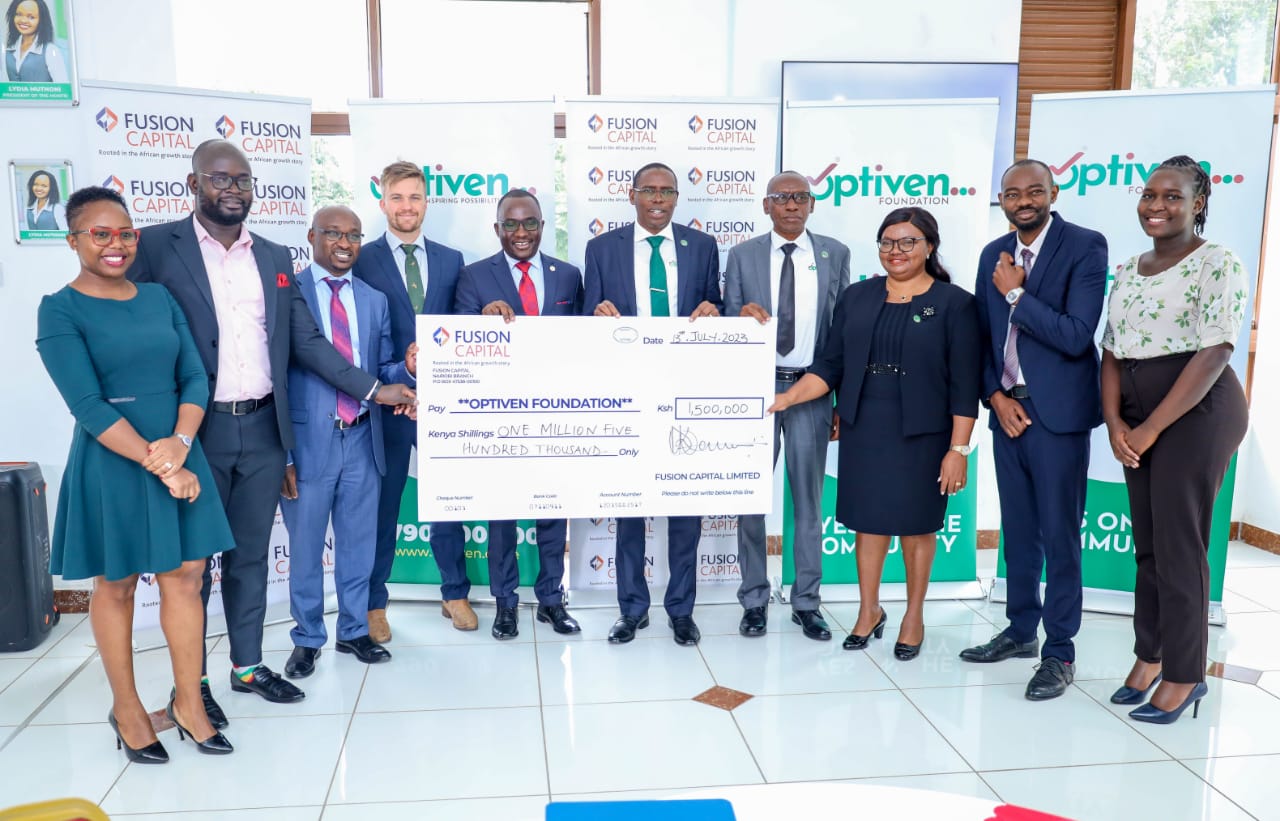 George Wachiuri, CEO and Trustee of Optiven Foundation, expressed his heartfelt gratitude, stating, "We are immensely grateful to Fusion Capital for their unwavering support. Their consistent contributions have made a profound difference in our efforts to provide deserving students across Kenya with education opportunities. Today's donation of Kshs1.5 million will enable us to continue our Day School Intervention Program and positively impact the lives of even more children."
Wachiuri underscored the importance of partnerships in driving positive change, emphasizing, "At Optiven Foundation, we firmly believe in the power of collaboration. Our partnership with Fusion Capital has been instrumental in expanding our educational initiatives and reaching more communities. Together, we are creating a brighter future for the youth of Kenya, equipping them with the knowledge and skills necessary to thrive."
Daniel Kamau, CEO at Fusion Capital Limited, echoed this commitment to education and empowering the less fortunate, remarking, "Education is the key to unlocking the potential within individuals and communities. At Fusion Capital, we are dedicated to bridging the educational divide and empowering those with limited opportunities. We are pleased to continue our collaboration with Optiven Foundation, a trusted partner in realizing our vision of promoting education for all."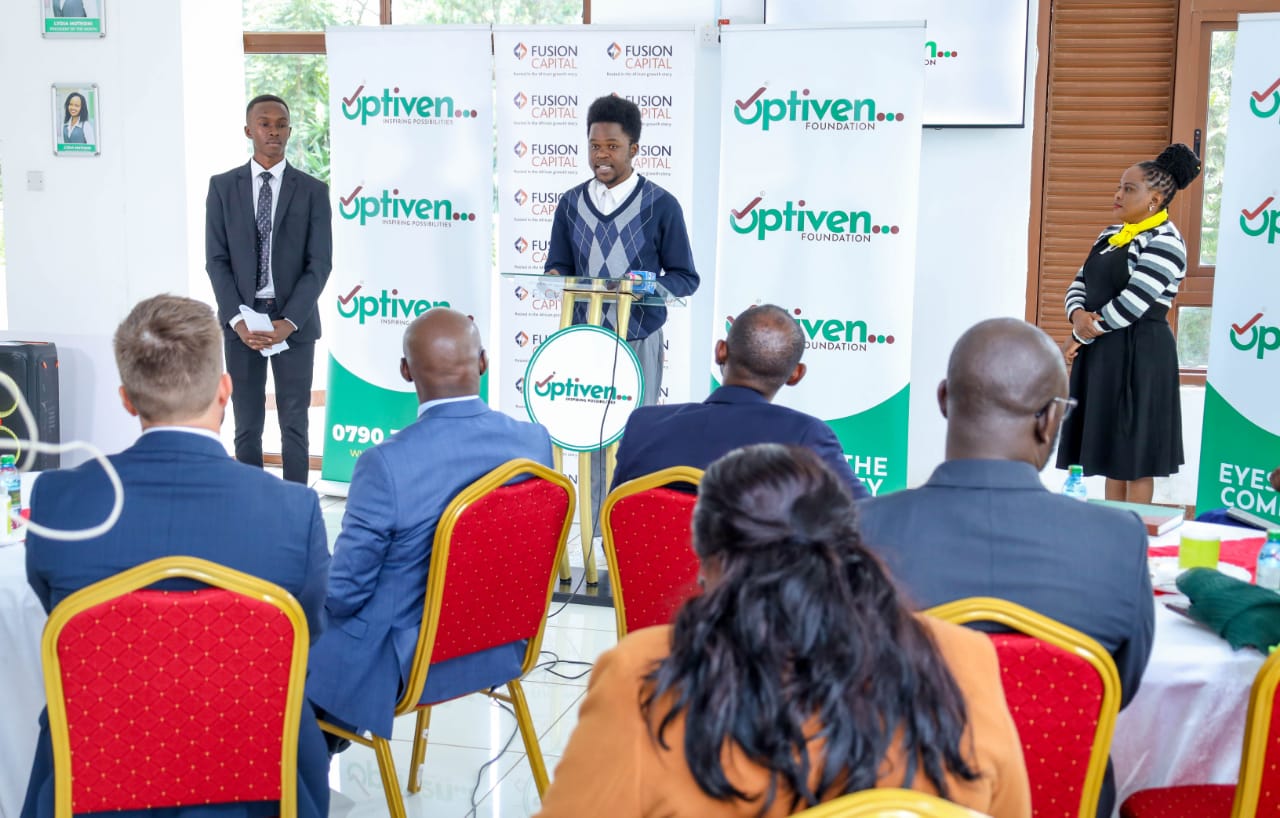 Kamau further emphasized the importance of investing in education to create a more equitable society, stating, "Through our investments in education, Fusion Capital strives to build a society where opportunities are accessible to everyone, regardless of their background. Our partnership with Optiven Foundation, known for their excellent track record, allows us to make a meaningful impact and pave the way for a brighter future for the less privileged."
This collaboration marks the fourth occasion where Fusion Capital has made a substantial donation to Optiven Foundation's Education Program, showcasing their unwavering support for the organization's mission to provide quality education to underprivileged children in Kenya. Previous donations from Fusion Capital include Kshs2 million in March 2020, Kshs1 million in September 2021, and Kshs1 million in May 2022.
About Optiven Foundation:
Optiven Foundation is a non-profit organization that seeks to empower individuals, families, and communities through education and economic empowerment initiatives. Through strategic partnerships, mentorship, and innovative programs, the Foundation aims to create sustainable change and improve the quality of life for underserved populations.
About Fusion Capital:
Fusion Capital is a renowned corporate entity committed to social responsibility and creating impact in communities. With a focus on bridging the educational divide and empowering the less fortunate, Fusion Capital invests in initiatives that promote education and contribute to building a more equitable society. Their collaboration with Optiven Foundation exemplifies their dedication to their vision of promoting education for all.
For more information about Optiven Foundation and its programs, please visit: www.optivenfoundation.org
For more information about Fusion Capital please visit: www.fusioncapitalafrica.com
Optiven Media Contact:
Muchiri Muchoki
Optiven Media Manager
Phone: 0720 736 846
Fusion Capital Media Contact:
Digital and Marketing Associate
Phone: 0725 522 228