Are you thinking of ways to invest in Kenya? Well, buying land for investment purposes is one of the best ways to grow your wealth. One of the best places to buy land in Kenya is Kikuyu, a fast-growing part of the Nairobi Metropolitan area. Here are some quick facts about this area and the reasons to invest in Kikuyu:
Where Is Kikuyu Located in Nairobi?
Kikuyu is an area located in Kiambu County, Kenya, which grew from a settlement of colonial missionaries. The town is located about 20 km northwest of central Nairobi, about 25 minutes drive from Nairobi CBD.
Why Invest in Kikuyu?
Here are some compelling reasons why you should consider buying land for investment purposes in Kikuyu: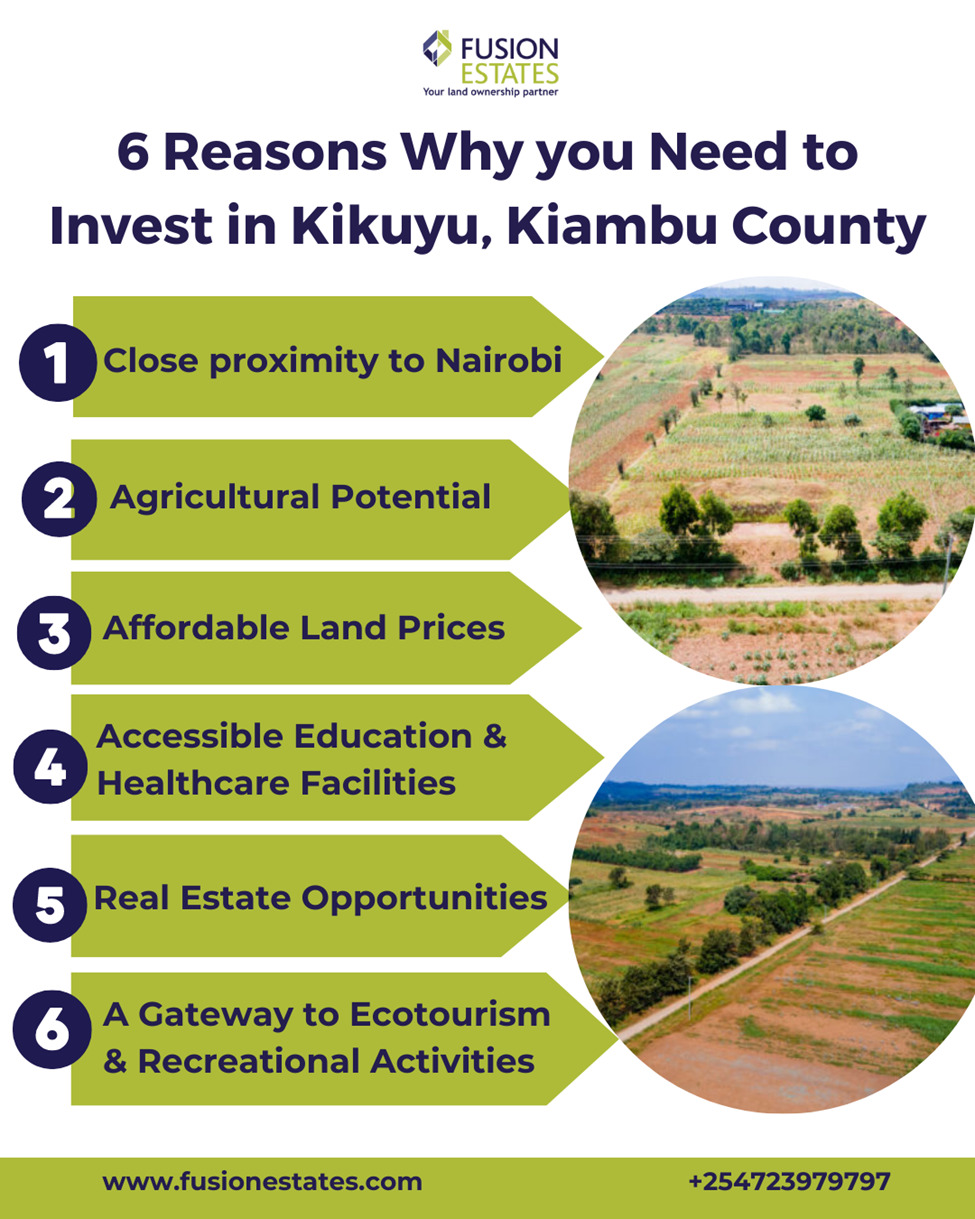 1. Close proximity to Nairobi
The first key factor is that Kikuyu is strategically located near Nairobi city. In fact, you can access Nairobi through the southern bypass or through the Gitaru-Nairobi Expressway in around 25 minutes. This makes it easy to tap into Nairobi's vibrant economy, amenities and infrastructure.
2. Agricultural Potential
Kikuyu and the entire Kiambu County is renowned for its fertile agricultural land. The area has favorable climatic conditions and suitable soil ideal for cultivating various crops such as maize, beans, tea, coffee, and horticultural products. In other words, buying land in Kikuyu means you can venture into agribusiness and harness the region's agricultural potential.
3. Affordable Land Prices
Another reason to invest is the attractive prices for the land for sale in kikuyu areas. Property prices in Kikuyu or plots for sale in Limuru area are still relatively affordable, compared to other areas around Nairobi. This makes it a good opportunity for you to get into the growing market. Therefore, if you are looking for plots for sale in Kamangu area, you can invest in Zahara Gardens property by Fusion Estates. The projected is located in the serene Rosegate Nachu area, off Dagoretti Mutarakwa Road at Shell Lusigetti ideal for residential properties and commercial investment.
4. Accessible Education and Healthcare Facilities
Investing in Kikuyu also means getting access to a range of amazing education amenities from preschools, kindergartens, primary schools, high schools to colleges and universities including the likes of Alliance Girls High School, Alliance Boys High School, Presbyterian University of East Africa and more.
Kikuyu is also home to PCEA Kikuyu Hospital, one of the best hospitals in East and Central Africa.
5. Real Estate Opportunities
Kikuyu has a growing population, due to its proximity to Nairobi and the rising economy in the area. As a result, there is increased demand for residential and commercial properties. You can buy land in Kikuyu and invest in residential and commercial properties like rental houses.
6. A Gateway to Ecotourism and Recreational Activities
If you love nature and tourism then you will love that Kikuyu is surrounded by natural beauty with some amazing recreational places suitable for families and kids. You can explore attractions like the Church of Torch, Nachu Caves in Gatune Hills, Kikuyu Park, Levilla Garden Pool & Sports Complex and more.
You can easily access the Great Rift Valley viewpoint, Nairobi National Museum, Karura Forest just a few minutes drive away.

In a nutshell, this is the right time to buy investment land in Kikuyu! Take advantage of the affordable land prices in Kikuyu to build your home or invest in residential or commercial properties.
Find Kikuyu Land for Sale, Start Investing Today!
If you are looking for plots for sale in Kikuyu, we at Fusion Estates have launched the Zahara Gardens, a wonderful investment opportunity for you at affordable rates!
Contact us now through 0723979797 or drop us an email at sales@fusionestatesafrica.com to book your site visit, today!